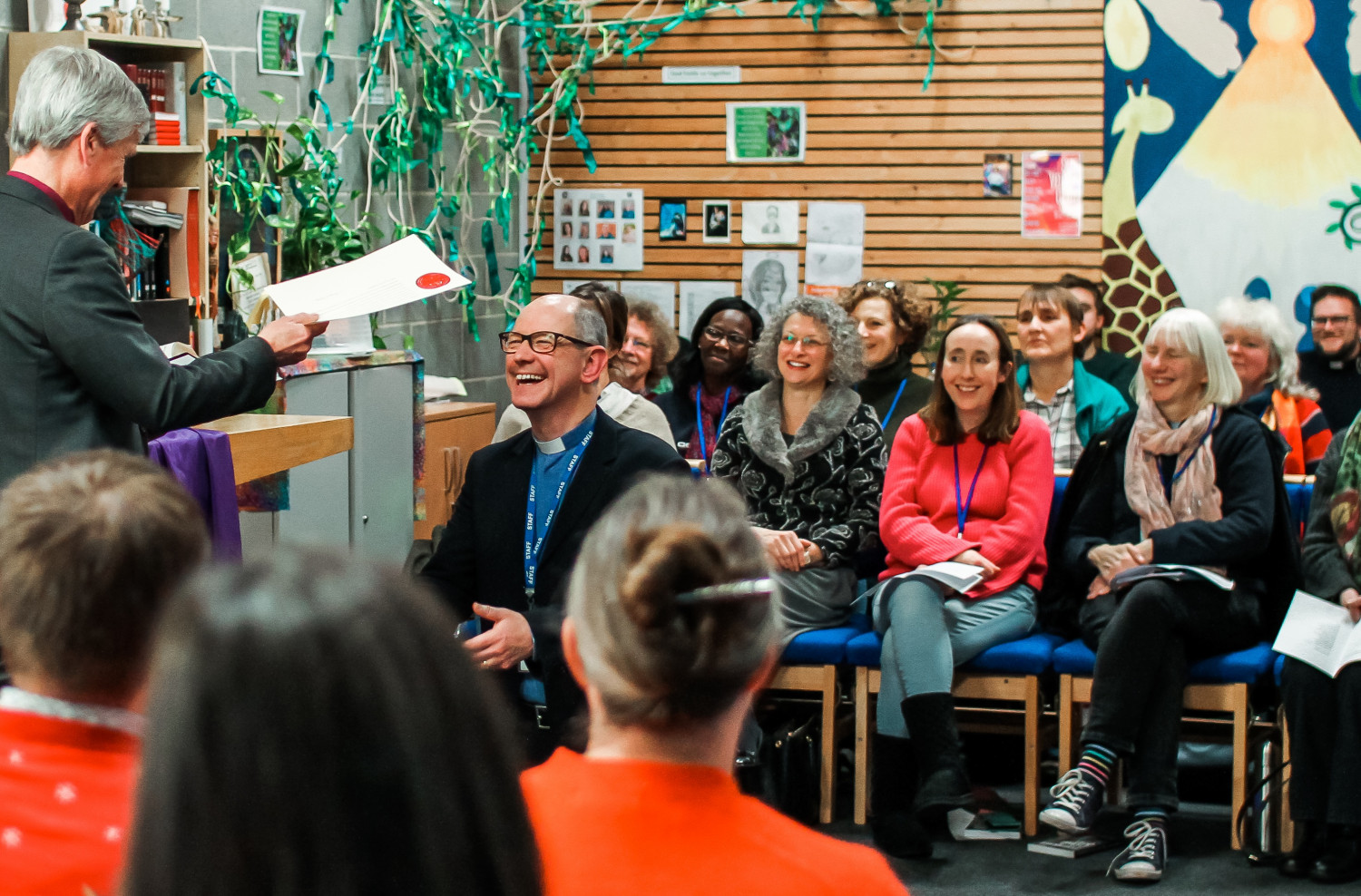 Anyone who enters authorised ministry in the Church of England will embark on a guided journey of thinking through their vocation, and ultimately will go through a selection process. Those who successfully complete this process, whether for ordained or lay ministry, undergo a specified training programme.
In the Diocese of Guildford, the Local Ministry Programme (LMP) trains Ordinands and Licensed Lay Ministers, but since this is a modular course, it's open to all interested learners, or those who might be exploring a vocation in ministry.
If you're still exploring your vocation, you might like to visit the Vocations pages for more information and support.
Who runs and accredits LMP?
The Local Ministry Programme for Guildford Diocese is part of the Mission Team's remit. We are one of four partners (with Sarum College in Salisbury, and the ministry training programmes from Oxford and Winchester dioceses) in the South Central Theological Education Institution (SCTEI). It is accredited by the Church of England and validated by Durham University.
Who is this course for?
Our students are ordinary people who are training for ministry as Ordained or Lay Ministers, or parishioners who want to further their knowledge about the Christian faith – see more below about studying a module only.
Our primary role is to train Lay and Ordained Ministers who will be locally deployed in parishes around the diocese: these will usually be self-supporting ministers. But because many of the skills associated with being a minister are common across many different roles, the LMP is a good hub-point to provide some parts of training for other diocesan roles, such as Occasional Preachers, Worship Leaders and Lay Pastoral Visitors. Sometimes parish Incumbents also join us for a subject refresher or further studies.
How long is the training?
This will vary depending on the qualification you are aiming for at the end of your specific training, but it is typically done on a three-year, part-time course.
What is studied on the course and what qualification do you get at the end?
The course is a blend of practical ministry-related subjects and ongoing study and assessment. The majority of students complete the course with a Diploma in Higher Education in Ministry Studies. Some continue to complete a BA(Hons) after they are licensed or ordained.
How does the academic year unfold?
The training programme begins in mid-September each year, and is based on three terms of about 11 weeks each. The course is modular, usually covering one main module subject per term. Behind this are 'formation for ministry'-related subjects woven throughout the course.
Where is the course run from?
Most teaching sessions are held in a central Guildford venue on a Monday evening.
The evenings begin with gathered Evening Prayer at 7.00pm, and the teaching delivered between 7.30pm and 10pm. In addition, each year, there are three residential weekends and three Saturday Study Days.
Can I have a taster of one of the study days?
Studying a module only
As the LMP is modular, we are normally able to provide opportunities for people to join us and complete a module simply for the love of learning and without any expectation of going further.
Modules, such as 'Introduction to the Bible' and 'Christian Discipleship', are ideal for developing overall knowledge and understanding, and are open to 'auditing students' - listeners - who wish to explore their faith and vocation without training for ministry.
These are some of the subjects you can study as a module, and when:
Autumn term
• Introduction to Church History
• Topics in Christian Doctrine
Spring term
• Introduction to the Bible
• Mission and Evangelism
• New Testament Studies (for those who have completed the Introduction to the Bible module)
Summer term
• Christian Discipleship (Ethics)
If you would like to study one or more LMP modules, please contact the Team Administrator Rachel Bader, 01483 790351
More to study
As well as the LMP, there are additional courses and learning opportunities offered through the Diocese of Guildford all year round, on all kinds of subjects and which are open to all.
Theology Hub
The Theology Hub is a new collaboration between the Diocese of Guildford and Guildford Cathedral. We are also grateful to friends at the University of Surrey for their involvement. We are building a community for theologians and for the theologically curious across the Diocese. Our aim is to profile rigorous academic theology that warms the heart and serves our mission in the area. We will do this in three primary ways:
Gather for large events. These will be lectures and dialogues featuring leading academics in theology and in other disciplines. These events will be the focal point of our community as we gather to learn from leading international scholars about how their research is relevant to the Gospel in the 21st Century.
Support academic theologians. We know academic research can be a lonely road and so we are building a community for people engaged in post-graduate work across the theological disciplines. We will build a community in which we can share research and encourage one another.
Serve the churches across the Diocese. Theology exists to serve the local church and our vision is to hear from church leaders across the diocese as to how we can offer bespoke training and cater for their unique needs in facilitating their vision.
Coming up
Check back soon for the next Theology Hub event.
Ongoing studies
LMP offers a BA (Hons) in Ministry Studies for an additional two years' study for those who have completed the Diploma. For those who have a Diploma from another university, we can offer a Graduate Diploma in Ministry Studies over two years of study. Please contact the Director of Studies for more information.
Lifelong learning
After ordination or licensing, ministers continue to learn through ongoing assessment and training. Learn more about what happens next:
Contact
Revd Dr John Valentine
Dean of the Local Ministry Programme (LMP)
01483 790319
Sarah Slater
Diocesan Training Lead