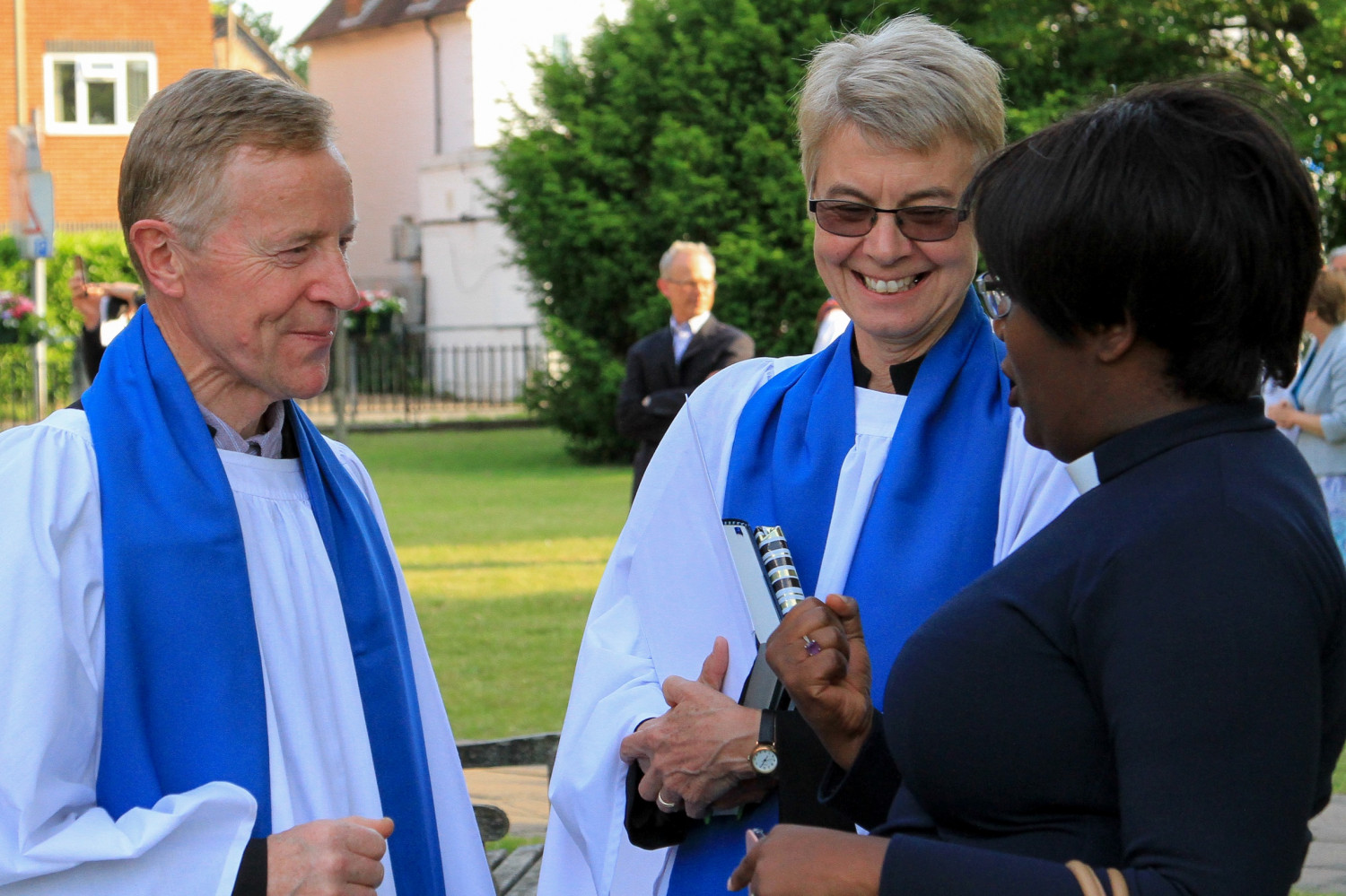 Use this page to explore more about the role of a Licensed Lay Minister (LLM) and how you might become one if you're exploring this ministry as part of your vocational calling.
If you're already an LLM, scroll down to Resources for downloads, links and practical ideas to support you in your role. Information for all lay leaders may also be helpful.
What is an LLM?
LLMs are people who, after training, are licensed by the Bishop to a role that allows them to minister both in Church as well as beyond the traditional boundaries of Church.
They are accountable through annual and five-year reviews, and their ministerial training and development is ongoing.
LLM duties
Alongside ordained and other lay colleagues, they will be involved in all kinds of ministries such as:
• Leading worship and preaching in Church.
• Engaging in pastoral work and conducting funerals.
• Acting as chaplains in hospitals, hospices, for Scouts and other groups.
• Leading study groups, Lent courses and confirmation and baptism classes.
• Ministering informally in their workplace, neighbourhood and elsewhere.
• Oversight of Lay Associate Ministers and other lay leaders as required.
There is a formal diocesan role description for LLMs:
Are LLMs the same as 'Readers'?
Yes - LLMs used to be known as Readers but 'Licensed Lay Ministers' better describes their distinctive role. Use the headings below to reflect on this further:
'Licensed'
LLMs are the only nationally licensed and internationally recognised lay ministers in the Anglican Communion and their licenses are transferable between dioceses.
• They complete a rigorous and nationally accredited training programme in both theology and Biblical studies. Training includes a placement at a church that is different from the student's home church, and it happens alongside others whose shared journey is itself an essential part of the training.
• On account of this training, LLMs are formally authorised through Bishop's licensing and accountable to their incumbents.
'Lay'
An LLM is specifically called to serve the Church as a lay person; 'lay' means that the calling is not to a 'sacramental' ministry.
• While historically the office of Reader was designed to serve the local church, e.g. in preaching, teaching and leading worship, today the LLM's position as being licensed and lay provides an opportunity for the LLM to be a bridge between the worlds of church and 'outside', especially as new forms of church develop and take place outside the traditional confines of church.
• An LLM's ministry is exercised within a parish, having roots in a particular faith community, and contributes to the community's spiritual life through his/her theological training but also enriched by the secular world.
• An important aspect of the distinctiveness of Licensed Lay Ministry is seen in its being exercised not only within the congregation and the parish, but in many cases also in a work place or wider community, for example as a waterways or prison chaplain.
'Ministry'
LLMs are called to serve the church as a whole and its parts, e.g. by equipping the people of God for their role in the world; but by virtue of being lay, the Lay Minister has a ministry not limited to the parish – it is service to the Church and beyond.
• The recognition that LLMs are ministers of the Church allows them more easily to be accepted into positions of trust both within and outside of the Church (for example by conducting funerals, taking roles on community leadership teams, being a school governor, or a hospital or hospice chaplain).
Becoming an LLM
If you're exploring your vocation and considering Licensed Lay Ministry, that is wonderful!
There is a helpful page on the Central Readers' Council website to help you consider this vocation.
Use the headings below to learn about the process in the Diocese of Guildford, the contacts who will be involved and the downloads you will need to present yourself as a candidate.
Process
You can read about the formal processes involved in presenting yourself as a candidate, and undertaking the necessary training and licensing in the 'LLM (Reader) Guidelines' and in the document 'Selection Procedure for LLM (Reader) Training'. There are also some useful contacts in the back of these guidelines, and on the Board for LLMs.
Training
There are many people who can help you consider this step, before presenting yourself as a candidate. Your incumbent, other LLMs, your house group leader, and others who know you well should be able to make helpful observations. You will need the recommendation of your incumbent and PCC to undertake the training, so it is important to gain their support. The Warden of LLMs and the Dean of the Local Ministry Programme (LMP) are also very willing to help. You should also consider the time that will be required to undertake the initial training.
The LMP will be the primary route for your training.
Application
When you are ready, you should complete the application form and other documentation which can be obtained from Helen Roche, the Candidates Secretary of the LLM (Reader)s' Board.
This may then result in you being called to a meeting with a Selection Panel.
Following the selection meeting, the panel makes its recommendations to the Bishop. With the Bishop's approval and a satisfactory DBS check, you will be ready to begin training at the start of the next academic year in September.
We wish you every blessing as you seek to discern your calling to ministry!
Resources for LLMs
The Central Readers' Council (Transforming Ministry)
The Central Readers' Council, called 'Transforming Ministry', represents all Readers (or LLMs, as in the Diocese of Guildford) in the Church of England. It is a registered charity supporting the training, education and development of Readers for their ministry and the website offers lots of information, resources and news.
It also publishes Transforming Ministry magazine, and administers some bequests from which training grants can be given to Readers.
Training and growing in faith
These are several pages which offer training and other development ideas that might interest you:
Courses and learning for all (coming soon)
Worship resources
These pages may help in your worship planning:
Collective worship for schools – this page, prepared by the Education team, is primarily for the school assemblies, but many of the resources would work well in other contexts where families and young children are present.

Diocesan LLMs' Board
What the board does
The LLMs' Board meets 3 times a year. While much of the day-to-day running of LLM matters, like the organisation of the annual LLMs' Day and LLMs' Service, are the primary responsibility of the Warden and Registrar, the Board gives practical assistance and advice. It represents the LLMs' voice at meetings and engages in discussion of wider issues as they arise.
Board members
Ex officio members
• Ros Fox – Warden of LLMs
• Graham Everness – Registrar of LLMs
• Revd Peter Harwood – Director of Mission
• Revd John Valentine – Dean of LMP
• Simon Loveless (co-opted) – IME4-7 co-ordinator
• Helen Roche – CRC Representative & Assistant Warden
• Elizabeth Rowlandson – Candidates' Secretary & Assistant Warden
Elected members
• Tony Harris (elected to Board AGM 2021)

• Keith Harper (elected to Board AGM 2021)

• David Shervington (elected to Board AGM 2022)

• Rosalind Cyphus (elected to the Board AGM 2023)

• Trevor Lewis (elected to the Board AGM 2023)

• Andrew Linn (Elected to the Board AGM 2023)

• Helen Shanks (Elected to the Board AGM 2023)